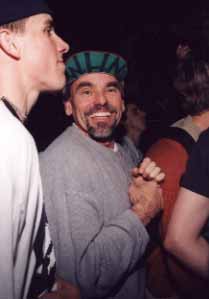 I record bands for cheap. Check it out.
Feel free to visit my empire, my kingdom, my playground, or my slap in the face of popular music.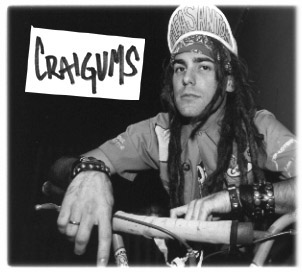 Through the studio I work with a lot of young bands. I'm noticing many kids coming into the underground scene have no idea about some of these older and absolutely semiole bands that had a huge influence on me. Of course I feel that is a shame although I'm sure most of them couldn't care less. But hey, if you like WHN? you'll have to accept the fact that WHN? wouldn't be what it is if I hadn't spent the better part of my youth listening to The Cure and Weird Al.
So I've decided to come up with my own Suggested Listening List. I threw on a few greatest hits compilations for convenience' sake because if you don't already know about a band then getting a hits collection is a good way to start. Even though Bruce McCoullough says, "Greatest hits are for little girls and housewives."
OTHER
Weird Al Yankovic - every single album he has ever done and will ever do
Brian Regan "Live"
Run DMC "Raisin' Hell"
Mr Bungle "California"
Elliott Smith "Either/Or"
Madness "One Step Beyond"
Carl Orff "Carmina Brahna"
Madness "One Step Beyond"
Tenacious D "s/t"
King Missile "Mystical Shit"
John Frusciante "Niandre Lades and Usually Just a T-Shirt"
Mighty Mighty Bosstones "Devil's Night Out"
Oingo Boingo "Boingo Alive"
Evaporators "United Loyalist Empire"
Bobby Joe Ebola and the Children MacNuggits "Carmalita Sings"
Firehose "From Ohio"
The Shaggs
Primus "Suck On This"
Ween "Piss Up A Rope"
They Might Be Giants "Then"
Ben Folds Five "Whatever and Ever, Amen"
Fugazi "Margin Walker"
Skankin' Pickle "Skafunkrastapunk"
NOMEANSNO "Wrong"
DJ Lebowitz "Beware of Piano"

METAL
Slayer "South of Heaven"
RATT "Out of the Cellar"
Metallica "Master of Puppets" or "And Justice For All"
Neurosis "Word As Law"
Twisted Sister "Stay Hungry"
Tyrranicide "God Save The Scene"
S.O.D. "Speak English Or Die"
Scorpions "World Wide Live"
Ringwurm "Domesticate It"
Motley Crue "Shout At The Devil"
Ministry "In Case You Didn't Feel Like Showing Up"
NEW WAVE
The Cure "Kiss Me Kiss Me Kiss Me" and "Standing on the Beach" (not the cd version)
The Smiths "Strangeways Here We Come"
Echo and the Bunnymen "Crocodiles"
Depeche Mode "Music For the Masses"
Bauhaus "The Sky is Burning"
Love and Rockets "Earth Sun Moon"
New Order "Low Life"
Siouxsie and the Banshees "Once Upon a Time"
Duran Duran "Decade" (ooo, that's gonna get me beat up)
Violent Femmes "s/t"
Squeeze "45's and Under"
TSOL "Beneath The Shadows"
U2 "War"
DEVO "Freedon Of Choice"
ROCK
HICKEY anything you can find - just go here
The Cult "Electric"
Muscle Bitches "Demon Boy Takes a Bride"
New Bomb Turks "Destroy Oh Boy"
Guns N Roses "Appetite For Destruction"
Pixies "Surfer Rosa"
Turbonegro "Ass Cobra" and/or "Apocolypse Dudes"
Faith No More "King For a Day, Fool For a Lifetime"
Beatles "White Album"
Mando Diao "Let Em In"
Danzig "I" or "II"
Smoking Popes "Operation Failure"
Clutch "s/t"
Mudhoney "Superfuzz BigMuff"
Soundgarden "UltraMega OK" or "Badmotorfinger"
Toadies "Rubberneck"
Tool "Opiate"
Supersuckers "Must Have Been High"
At The Drive In "Relationship of Command"
Weezer "Pinkerton"
Police "Ghost In The Machine"
Reverand Horton Heat "Poker In the Front"
Janes Addiction "Nothing's Shocking"
Rocket From The Crypt "Scream Dracula Scream"
Def Leppard "Pyromania"

PUNK
Dead Milkmen "Big Lizard in My Backyard"
SNFU "If You Swear You'll Catch No Fish"
Descendents "Somary"
DRI "Dealing With It"
Four Two Pudding comp on Very Small Records (best comp of all time)
The Damned "Light At The End of the Tunnel"
Propagandhi split with I-Spy
Misfits "Walk Among Us"
Living End (the one from LA, not Australia)
Circle Jerks "Group Sex"
Bad Religion "No Control"
Minor Threat "Discography"
Dead Kennedys "Give Me Convenience or Give Me Death"
Surf Punks "My Beach" (first punk tape I ever bought!)
RKL "Double Live in Berlin"
Plow United "Goodnight Sellout"
Gorilla Biscuits "Start Today"
Anal Mucus "86-97"
NOFX "White Trash, Two Heebs and a Bean"
Avail "Satiate"
Suicidal Tendencies "Suicidal Tendencies"
Bad Religion "Suffer"
Clash "London Calling"
D.I. "Horse Bite Dog Cries"
Dickies "Stukas Over Disneyland"
Samiam "s/t"
Screeching Weasel "Boogadaboogadaboogada"
7 Seconds "Walk Together Rock Together"
Operation Ivy "Energy"
Diesel Queens "Hooked On Moronics"
Black Flag "Damaged"
Sex Pistols "Never Mind the Bollocks"
Neurosis "Word As Law"
Victim's Family "White Bread Blues"
Pennywise "Unknown Road"
Subhumans any album from either the U.K. or Canadian band
Schlong "Essential Schlong"
Fear "The Record"
Offspring "Ignite"
TSOL "Change Today" or "Thought Of Yesterday" (yeah, I know they're in 2 catergories here)