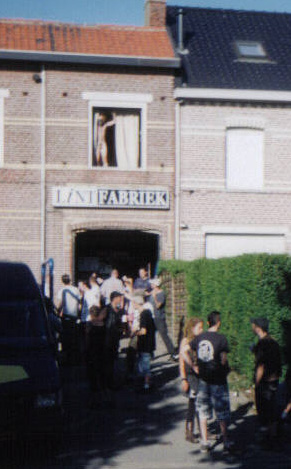 Andy from TEAR IT UP and I stood naked on a furnace in this second story window but Andy fell before this pic was taken. Thankfully he fell in the window and not out the window.
And judging from this picture maybe I'm not so tan after all.
I gotta say, the Poles, the Slovakians, even the French were all easier to understand than the VARUKERS from England. Not only were they using such thick accents laced with cockney nonsense but they were drunk as fuck and totally spun on speed. And they're punx. They were up all night and apparently stole a tractor. Marvin said, "We took that thing and fucked and smashed…"
"The system?" I asked.
"No, but just about everything else."
The night before their guitar player tried to throw a TV out the window but it was too heavy and it fell on his eye. I went to bed when their 60th beer was drunk. Thank gosh I brought earplugs.
Our venue tonight is called FREE BUTT. The first band was BUTT MELT so we adapted and called ourselves BUTT HAPPENS NEXT?
According to bra sales England apparently has the world's largest breasts, but after walking around I have to wonder if they are measuring cup size or bust size because people here are FAT! And I'm from the U.S.! Whenever Japanese bands come over to the States they always remark on (and take pictures of) how many overweight people there are. That is actually how I felt walking around on my first day in England. I also felt hot because it was uncharacteristically sunny out. All my impressions of Britain were that is was a cold, foggy, miserable place but that is just not the case today. It's downright hot here! And cloudless! It is so hot people are dying of heat strokes and the beaches are so crowded with people not used to going to the beach they're drowning in the sea! Hot!
I met up with Sean from WAT TYLER whom I first saw play at Gilman St. twelve years ago when he was with THATCHER ON ACID. The reason I remembered them was because they started bagging on all the California punks for dancing in a circle. That began a 40-minute long ripping-on-U.S.-punks session that was accompanied by an unending one-note riff. Someone finally told them they sucked and were stupid (always an intelligent retort) and Sean said "we're not the ones dancing in circles for 45 minutes to one chord played by a band we think sucks." Ever since that night I have paid attention to Sean's projects and I am was always entertained by his wit. But tonight I had the last laugh because we were in his town and all the kids were dancing in circles to us. Ha - face on him!
I don't think we met a single person in Scotland that wasn't drinking. Even walking around town with the SHANK guys everyone we passed was drinking.
Devon and I first met Jamie SHANK from Glasgow in Sydney, Australia. He was leaning against the wall vomiting and politely saying "Nice t'meetcha." Four years later, in Sydney, I met him again. He was leaning against a wall vomiting and politely saying, "Good t'see ya again!"
These Scotland pics by Graham Dundee: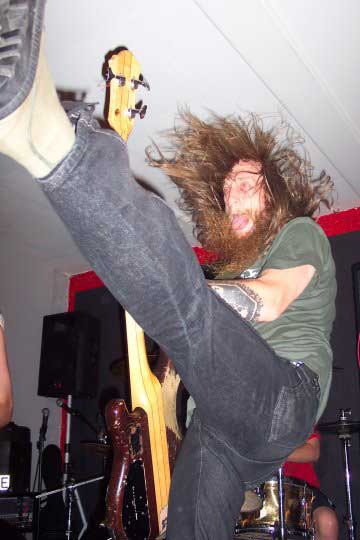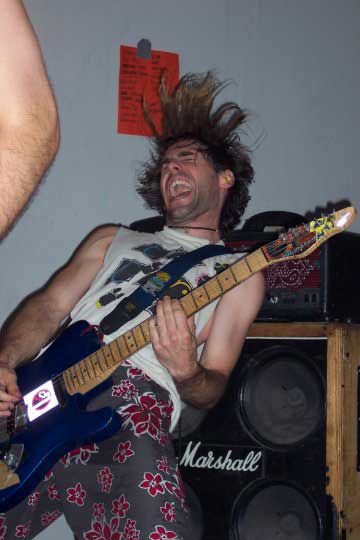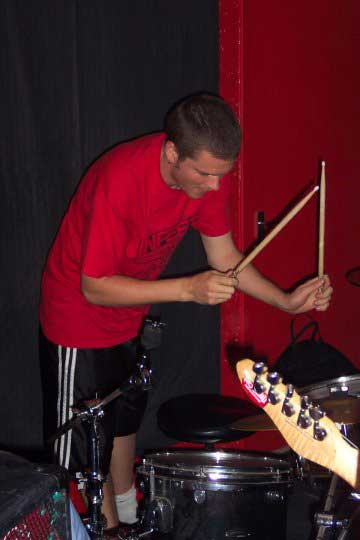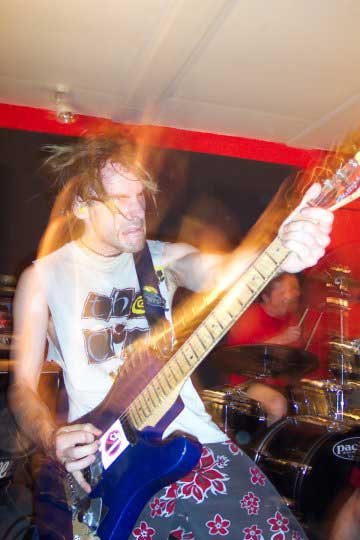 These Scotland pics by Tommy Duffin: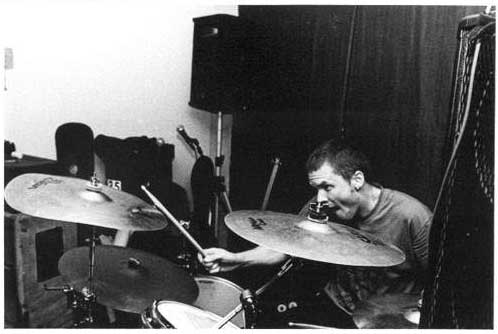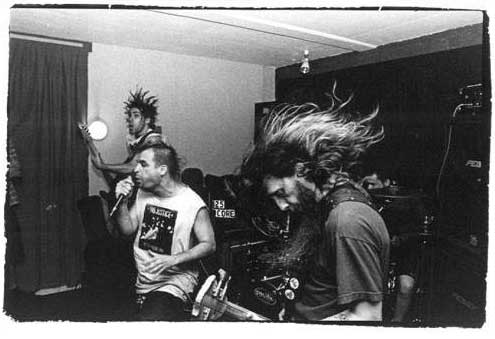 In Jamie's house were tons of comics and movies and video games and other sorts of fun stuff but the thing that caught my eye was a cassette called Punk Classics from the Middle East. It included such hard-rocking, government-bashing artists as Hall and Oates and the Pointer Sisters.
An American kid tonight said that the lyrics to WHN? were his life. Funny how lyrics penned in under 5 minutes, in the studio, with Bart Thurber rolling his eyes and waiting with his hands on the faders, could mean so much to people. And what must they think of the lyrics to WHN? III?
Robert slept in the van last night and, with no choice in the matter, inadvertently pushed the Piss Bomb to a new level by shitting in a Tupperware container.
In Bradford, Devon told everyone that when most people travel to England they look forward to seeing things like Big Ben or the Cliffs of Dover but he was looking forward to seeing the real monuments of importance, like the 1in12 Club (the Gilman St. of England). The show was totally awesome, to boot. We were a little nervous they were gonna be all jaded but far from it. There was a 16 year-old heckler who never let up for any of the bands. He had long hair and an Iron Maiden shirt that was probably designed about the time he was being born. He called us a 'shit metal band' but I told him it was better than being a 'shit metal head.' He stopped heckling but he didn't stop dancing.
In a grocery store parking lot we saw two guys park in a handicapped spot who obviously were not handicapped. Suddenly my aversion to Piss Bombs lifted and we did our first legitimate, morally-justifiable vigilante Piss Bomb. Boy, it felt good! I would have even approved a Shit Bomb on those guys.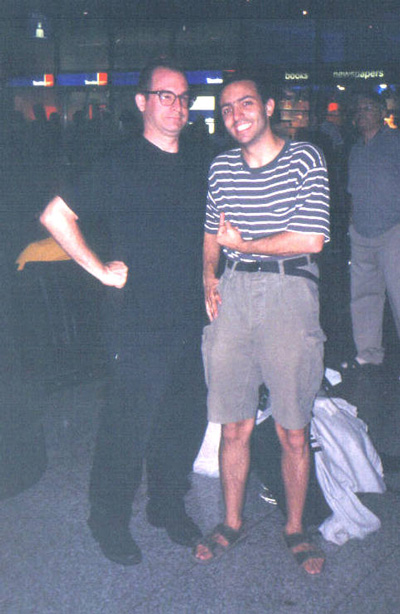 Devon in his German nihilist gear standing next to Steffen DESTROYER in his health-food-store-manager gear.
Last show in England, second to last show on this tour. First band takes it upon themselves to set up our gear while we are gone and they blow my amp in the process. Now I have no amp, I can't sell it after our show tomorrow like planned, I will have to pay to ship it home, and I will have to pay just as much to get it fixed. Needless to say I am LIVID. A bass amp is brought in as a replacement and I sit the first band out, stewing in the van about how the fuck I am going to afford to fix this colossal fuck-up. We play 45 minutes later and no resolution is reached and therefore no negative emotions have subsided. I play the most sedentary show I have ever played because I have absolutely no happies to share.
Good night, Bristol. There will be no encore.
I overheard one person say "they didn't have the same spark as they did on Monday" and another person say "it's good that everyone here is over 30 and easy to impress." Hardly a consolation. This is the home of The Cult, the Subhumans, Heresy and Ripcord, among others. I was really in the mood to kick some arse before this mishap. Lame way to end an otherwise awesome trip to Britain.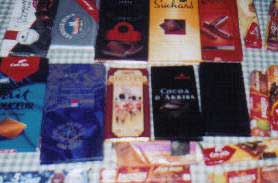 At last count I will be coming home with no less than 40 bars of foriegn chocolate.
July 19, Saturday, Bielefeld, Germany, Last Show
I fell asleep around 5 this morning (as usual) next to another old friend I met in Sydney – Clint. We were talking about all sorts of stuff generally revolving around our lives' directions (or lack thereof). I figured we were done when he stopped talking mid-sentence and I looked over to find his mouth open but his eyes shut.
Couple hours later we were on our way back to the mainland via ferry. 5kms outside of Calais, France (where we docked back on the continent) we realized our rear left wheel was so mal-aligned two of the lugnut heads had actually broken off. We waited, got towed, waited more, realized we were gonna miss Robert's flight if we waited any longer, rented a vehicle, left our big stuff (my amp included) in our old van and drove back to Mannheim – not by way of Bielefeld.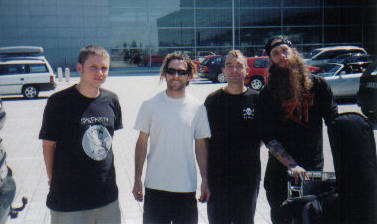 Mama, I'm coming home.
__________
So in it's last hours our trip took a sudden and sour turn but those unfortunate events did little to taint my overall experience. Heck, even with a busted rib, broken teeth, useless middle finger, blown amp, getting knocked unconscious twice, cutting my eye open, etc. etc. I still had an EXCELLENT time and would do it again in a blastbeat. I realize now why so many bands continue touring Europe (and often times nowhere else). Unlike most other regions (specifically the U.S.), 98% of the time bands touring Europe are fed, inebriated, and housed in every city. It can be so comfortable and peril-less that of course people would want to come back! We asked RAMBO, who had just returned from Europe, if we had any chance of recouping our expenses. Tony Pointless said that the only way we were coming back broke was if we left our bags of money at the airport. Our trip wasn't quite as lucrative as Tony would have had us believe but if we didn't acquire so many incidentals we – or any marginally established band – could cover most of our costs. (Unless of course you're HOLIER THAN THOU who wrecked their van the first day, broke it's windshield the second day, and later caught it on fire after a dome light proved faulty.) (Or if you're ARTIMUS PYLE who lost more money than I wish to spend the time to type.) (Okay, so maybe it's not so full-proof but I asked both of those bands if they had a good time and they both enthusiastically said Yes and planned to return again in the future.)
Did I have a good time? Yes. Am I a better person for having gone? Yes. Are those the only things that matter? Yes.
Thanks to:
Ralf and Gabbie and Simon, Martin's whole household (even the dog!), MY OWN LIES, DESTROYER, L'AMICO di MARTUCCI, NERVI, MOTU, RUFUS, Michael (Freiburg), GONNA FALL HARD, COCHE BOMBA, Valentina (Roma), DONALD WASHINGTON, TEAR IT UP, Eddie and Jose and E150 (Barcelona), Margarita (Madrid), Carlin (Pittsburgh), Vania and the Lisbon Mosh Crew, DAY OF THE DEAD, 33 @ 45, FIGHTING FOR CHANGE, Nanu and Vania and Ricardu (Portugal), END IT NOW, Chato and Paula and Laura (GIJON), Vicente (Bordeaux), the entire scene in Angers France – especially the Naked Masked Mosh Crew - whoever you are, NO LESS REFLECTION, Sophia the KENT fan, MALKOVICH, LOMB, KRIEGSTANZ, NATIONAL BLUE, SHIKARI, 12-XU Radio, TEAR IT UP, SURF NAZIS MUST DIE, xMACGUYVERx, JUST WENT BLACK, BIZARRE X, SEVERED HEAD OF STATE, BLACK SPRING, Dirk and Uli Hosen (Husum), ESCAPADO, BRUCE BANNER, MUSIC/DANGER, WISHING DAYS AWAY, DAMN RIGHT, PERSONKRETS 3:1, ONE STEP AHEAD, JAM SESSION, SECOND THOUGHT, Heinrick (Nikoping), LOCAL OAFS, ZGODZIEJE ROWEROW, KTO UKRADT CIASTKA, SECOND AGE, ONLY WAY OUT, JULIETTE, REGRES, Hubert (Poland), Robert Jenny Refuse Records, Chico (Poland), COALITION, Alec (Olomouc), LAHAR, SIKA, SEE YOU IN HELL, P.A.W.N.S., X-WING, BOILER, HUMAN ERROR, HOLD TRUE, Klaus (Bratislava), THE FLAME STILL BURNS, INNOXIA CORPORA, SUMO, GONNA FALL HARD, THE COMRADES, DOWNRIGHT, LUDD, KILL FOR CHRIST, VIOLENT PACIFICATION, JOHN DEERE, VITAMIN X, VARUKERS, LUNATIC SOCIETY, Spoc (Warsaw), Buzz (Brighton), BUTT MELT, Sean Wat Tyler, BIRDS OF PREY, BOXED IN, SHANK, THE HORROR, JINN, ARMY OF FLYING ROBOTS, ALL FLAGS BURN, VOMIT FOR BREAKFAST, LA FAMILIA MIRANDA, WOLFBRIGADE, IN DECADES DECLINE, SANTO CASERIO, SEDLEC, MUSTANG PROJECT, FRANK DREBIN, COLOSS, FUCKING BLOOD, HATE PM, COLERA, DESUCKA, HOLIER THAN THOU, TUMULT, STACK, DEADSTOP, HOPE DIES LAST, GEORGE BITCH JUNIOR, LOST FILM FESTIVAL, and roughly 1.5 billion other people.