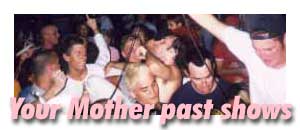 In case you didn't know, we played our very last show on January 10th, 2000. You can still read about most of our shows from May 1998 up to Jan 2000. If you want more info than that, take a look at the Photographic History of Your Mother. If you want to know more about our tour adventures, you can spend the next few hours reading about them.
[last show] [old] [older] [oldest] [history]
who

what

where

1999

Your Mother
Schlong
Drippy Drawers
Girl's Soccer
Jenny Piccolo

YMs last show ever, reunion show for all the other bands!

924 Gilman St, Berkeley

Sun, Jan 9th 2000

I guess this is going to be the last one of these! The epic last show! This was more fun than you could ever believe. Somewhere in the vicinity of 700 people showed up, and Gilman St has a sign posted that says "Maximum Capacity: 250" so it was a bit hot and sweaty. The best part of the show was seeing all the bands that got back together to play. Girl's Soccer was always fun to see, and even though Jay's (the drummer) foot was in a cast, he still played great. Jenny Piccolo couldn't make it, so Preachers That Lie hopped on the bill instead. I only saw them once when I was 16, yet I still knew all of their songs. Weird. Drippy Drawers wins the contest for traveling the farthest (two of the members live in Oregon and flew down for the show) and they rocked especially hard. I never got to see them when they were together, and I've been listening to their tape for years so it was fun to see them play. Plus they're all super nice guys. Schlong was the most "together" band (including us, strangely) and its odd because they only practiced once. I've seen them countless times and they were just as fun and chaotic as ever. Our set was, well, pure insanity. There was almost no room to move onstage because everyone decided that would be a really good place to stand. Once we get the pictures developed I'll explain more, because you really had to be there. SEE THE PICTURES

Your Mother
Outfit
SPiSHAK

Last show in Pleasanton (heck, first show in Pleasanton in 5 years or so.)

Pleasanton Vet's Hall, Pleasanton

Sat, Jan 8th

I lost my bass! I lost my strap! He has his bass! He has his strap! Anytime I can weasel in a Moonstruck reference I'm happy. We hadn't played in Pleasanton in like four years, and I saw a lot of people I hadn't seen in well, four years. SPiSHAK was pretty entertaining, they kept talking about how Pleasanton hates them, although Pleasanton was just indifferent to them like they are to everyone else they don't know. They did a lot of ass-kissing, and they even baked us a cake, which Alex did a back-flop (not a back-flip, but a back-flop) onto. Needless to say, I didn't get any cake.

During our set, some jerk walked off with my bass, which was annoying. I have another one, but I really liked that one! It had a pirate strap!

Your Mother
The Narrows (on tour)
Killing Independent
a band from Sacramento
SPiSHAK (maybe)

YMs last show in San Jose, also Brad Stoddard's graduation party, and Joe's "I'm quitting school forever" party.

Joe's House, San Jose

Sun, Dec 19th

Poop on your face! Ooh, this was a fun one! I was excited to play this show, because parties at Joe's house are usually pretty fun as long as they don't get of control. This one was plagued by difficulty from the beginning though. Joe is a bit forgetful, and he forgot to get a PA for the show, so it didn't actually start until about 6pm. Brad didn't really want to be there, I was sick and there was some speculation as to how Mikey would react to the attendance of some people he doesn't like. Turns out he didn't really care, but he and I went to my house to play video games because we were bored. I told Craig I'd be back before we play. We show up again around 6:30, and Craig and Brad are gone, they went back to Pleasanton because they figured we weren't coming back. And to top it off, there were rumors circulating around the party that Mikey and I were to blame for the band not playing, so when we showed up everyone was mad at us. Oh well.
On a positive note, Chu-Chi Nut Nut and the Pine Cone Express (me, Craig, Joe, Alex) practiced for the first time this morning, and it was loads of fun.

Salmon
Reaction 31
Broken Vision
NME
Your Mother
Abby Normal

Benefit for the Second Harvest food bank.

YWCA, Palo Alto

Fri, Dec 17th

Huh? Actually, this show wasn't that bad! I guess compared to the night before, nothingcould really be considered "bad." We played Twister, met some friends, and went through an entire set without anyone quitting or breaking anything! Wow! Could have had something to do with us playing early in the evening, hence there was no time for a drunken stupor to take over half the band. They had two stages set up, and we got to play on the "rock star" stage. How utterly cool is that?

Your Mother
Ding Dang
Unit Breed
and more

MAM's 1 year anniversary celebration! The best record store in all of the greater Lake Tahoe area!

Mad About Music, Lake Tahoe

Sat, Dec 11th

Barf! Sniff, sniff, our last "tour." We had tons of fun, and if we hadn't played a show (or at least not at 1:30 in the morning after a good portion of the band got totally loaded on Natural Ice) it would have been even funner. I'll spare you the details (those will be saved for the final junkmailer), but let's just say Mikey passed out by the third song, Brad quit by the fifth, and three other people took over playing our songs for us.

Your Mother
Rocket Queens
and more

International Porn Star Nuts Day benefit

Magoo's Pizza, Livermore

Sat, Nov 20

Wah! Our first show since we broke up, ha ha ha. I was in Livermore early that day, so I tried to organize a band bowling game, but it fell through, like everything that happens with this band! Instead me and Alex sat in the bar at Granada bowl drinking beer and eating fried cheese. That got boring, and the beer was way overpriced, so we went to the arcade downtown. But lo and behold, right next door to the arcade is the legendary Livermore Saloon, which neither of us have ever set foot in. We were expecting big bar brawls, country music and spitoons, since we were in Livermore. Instead we found the nicest bartender in the world, clean floors and Color Me Badd on the sound system. Hardly a saloon. We hung out there before going to the arcade, and by the time we made it to the arcade, they were closed. Screw that! We headed down to Magoo's (where the show was at) to play Ms. Pacman, but the machine was broken. Your Mother more or less sucked ass (I was sufficiently drunk, and I noticed right before the show that I had left my bass at Gilman the last time we played there. I borrowed Ron's girlfriend's bass, which I wasn't used to at all.) but we didn't care. It wasn't one of those shows where we hella suck, and we don't have fun, this time we sucked, but it was fun. Rocket Queens were awesome. When I got home my girlfriend told me that my cat peed all over my clean laundry.