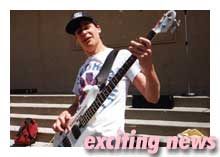 2/13/11
One Big Disappointment was just released! To add to the aura of the album name, its not released on CD, vinyl, cassette or any other tangible media. You just need to download it. Here. 39 or 40 songs. 15 years in the making.

While you're at it, we did that "Facebook" thing. http://www.facebook.com/YourMotherBand.

12/14/09
Balls Of Justice from Russia have contributed a special Russian version of Greg. Here's the message we got with it: "Max from Balls of Justice Russia, maybe you remember. Anyway i have record a karaoke version Greg Ex-Masturbator with russian words. Russian version is called Greg Ex-Zadrot."

Thanks Max

3/9/09
Your Mother has contributed a Nancy Vandal cover-song to the new Nancy Vandal tribute album/dvd. Check out NancyVandal.com for more info. In the mean time check out this sweet promo video featuring Your Mother (amongst others.)



3/8/09
Rucksak sent in their Scotch Karaoke version of Greg Ex-Masterbator.

7/04/06
Craigums went and won himself the 2006 US National Air Guitar Championships! He's off to Finland to compete in the World Air Guitar Championships (yes, such a thing exists!) in September! Spin Magazine says:

After an intense compulsory round, Craig "Hot Lixx Hulahan" Billmeier blew away the competition in NYC with the help of Metallica and a sombrero.

San Francisco's Craig "Hot Lixx Hulahan" Billmeier took home the title at the fourth U.S. Air Guitar national finals, held in a sold-out Bowery Ballroom in NYC. Hot Lixx beat out fierce competition -- including last year's reigning champion Fatima "Rockness Monster" Huang -- with his blustery energy, south-of-the-border style, and technical picking during Metallica's "Enter Sandman." His performance was so masterful that the judges overlooked the impressive butt-crushing skills of NYC competitor Andrew "William Ocean" Litz, who is known for his ability to flatten cans of Sparks malt liquor with his tush during performances.

Hot Lixx will head to Finland in September where he'll represent the United States in the world championships. We hope he'll fare better than our national soccer team did in the World Cup.

Some links:
Hot Lixx Hulahan
US Air Guitar Championship
AP News article


08/09/04
Yeah, we went ahead and did it, www.myspace.com/yourmother so go ahead and add us as your friend on Myspace.

06/06/04
The "Factory Outlet" has been updated! So now when you order stuff, you might actually get it, instead of an email that says "sorry, we haven't had that in three years." There's only 3 records still available (The Weird Al-bum 10", Too Fat For Love 7", Golfing 7").

Do you run a record label? Want to repress our first CD, One Big Inside Joke? We seem to get a lot of orders for it, and it hasn't been available for a long time. We have covers printed already, just no CDs. Email us if you're interested.

In other news, Love Songs (Craig and Brad's new band) just released their new CD. Buy it, its good.

03/10/04
Ho crap! Mikey kissed a cat!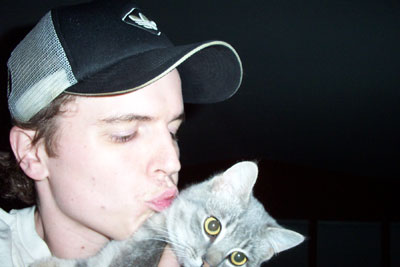 02/01/04
Ho crap! Craig wrote a book!
Buy one! Buy two!!


01/09/04
RIP Your Mother - 4 Years and counting...

12/01/03
Deleted the guestbook off the site because of lameness. Also changed up the way we post to the site so you can't do that anymore either. See ya.

10/20/03
Dude, you guys and gals have to lay off the lameness.

10/20/03
I really have to remember to put a password on this news page. For the love of god.

- Alan

07/22/03
Craigums is almost killed in Euro-Tour. (not litterally) Craig Come Back.

07/22/03
YM rules!

07/08/03
Craigums, Alan and Joe (the new guy) are all touring with their new bands this summer. What Happens Next is touring Europe, Morse Code Heartbeat and the Unit Breed (alan and joe's bands) are touring the US. Check their websites for tour dates and mp3s.

What Happens Next?
Morse Code Heartbeat
The Unit Breed

03/23/03
Like, totally anti-Bush administration.

03/19/03
The old pre-internet tour diaries/junkmailers have been added to the website! Hurray. Now you can read about the Mr. Color TV Tour and understand what the song is about.

02/07/03
More MP3s added by request of some crazed fan. There's your update. You figure out which ones are new.

08/01/02
Have you ever wanted to discuss the deep meanings of Your Mother lyrics? Well, now you can! Your Mother @ SongMeansings.com

07/26/02
The ex-members of Your Mother are now officially 3/5th unemployed! If someone could just go get Mikey and Craig fired, it would look a lot better on our resumes.

07/10/02
There is a new compilation out with a previously unavailable YM track. I'm feeling rather lazy and haven't added it to the discography yet, but I'll put some info here, in case you want to order it yourself.

This here is a 40 page comic book with a soundtrack CD with YM, Atom and His Package, Spazz, Useless ID, Biceptasaurus and several more bands (mostly from Australia). The comic book was drawn by Glenn Smith, and is about the greatest metal band that never was, NECROTARDATION. Its wacky funny. The CD has Necrotardation covers and songs inspired by Necrotardation. We gave them a third rate cover of an Exodus song. The rest of the CD is good, and the comic book is impressive. You can order it from
Deplorable Records. They're in Australia, so shipping might be kinda pricey, but its worth it.




04/17/02


It may look like Bradley is turned to the side and Alan is facing the camera, but in actuality this is proportionate to their respective widths. Bradley is approximately 1/3 the width of Alan.
04/02/02
New Press Releases added.
04/01/02
Happy April Fool's Day, foo.
03/15/02
Speaking of Love and Suicide, anyone talked to Bradley lately? Looks like he's now off coffee and (unwittingly) off his girlfriend, and so continues the Worst Life In The World Chronicles - mooseswamp.com
03/13/02
This one time I was gonna kill myself, but then I turned off Craig's LOVE SONGS CD, and then I didn't feel like killing myself anymore.

03/11/02
This one time, I was gonna kill myself but then I listened to One Big Inside Joke and Craigs Love songs cd.

Now that's cool

JD


02/13/02
What's going on here?
This weekend my next door neighbor comes over and says he just heard someone on LIVE 105 talking about Your Mother and All You Can Eat... Then the following excerpt from a Bad Religion article in SPIN Magazine was pointed out to me:
"Of course, a scholarship here and there doesn't neccessarily make up for the credibility hemmorage the band suffaged after its Epitaph defection. A punk band named Your Mother recorded a song called "Color Me Badd Religion," which includes the line "All harmony makes big money."
All this mainstream media attention is interesting at best, but I think we can all agree - we won't be truly happy until we either have our own YM cereal or our own YM pinball machine. - Craigums

01/14/02
Love Songs (featuring ex-guitarist/vocalist of Your Mother, Craigums, and ex-drummer of Your Mother, Brad) are playing their first show with ex-fan of Your Mother, Seth, on bass.
February 2nd - Saturday
at Mission Records in SF
(on Mission between 18th and 19th)
with:
The Bananas
Sharp Knife (ex-Jocks)
Me You And The Boys (ex-Hickey, 50 Million, Rudiments)
All-ages / Starts early at 4pm


01/07/02
January 9th marks the 2-year anniversary of YM's death. Oh, how we've grown and matured since then...
01/06/02
Yo, Tao what's the dilly!?

01/04/02
THIS JUST IN!!!!
Alan is a fruit!!

Jan 01 '02
Posted memoirs from my trip to Antarctica here if you're at work and looking for a way to waste the afternoon. - Craigums
12/19/01
OK, so there haven't been many updates lately on this site. I will give you a run down of all relevant events in the past 6 months ago. - Alan

THE 18+ SECTION. Our friend Ben Clapp, who used to live in Idaho, and now lives in New Jersey and hangs out with Ozzy Osbourne from time to time, was checking out the YM website on his girlfriend's computer. He was feeling a little randy so he thought he'd check out the 18+ section. Next thing you know, a message pops up that says "SMASH YOUR COMPUTER!!!" and then his computer crashes. It destroys the hard drive. Apparently my harmless little computer crashing script can destroy a macintosh, and I never tried to test it on a macintosh. He tested it for me, and it truly smashed his computer. So I took it down.

BRAD - He still lives with his parents. YUP!

MIKEY - Is playing guitar in a band called the Eddie Haskells. After winning the hair growing contest he opted for the slimiest haircut possible. It looks good on him.

HAIR-GROWING CONTEST - Mikey won. I chickened out. More on that later.

ALAN - I lost the hair-growing contest. It got really, really long, I'll have some pictures to prove it soon. I left San Jose in May, went to New York, drank heavily, went on tour with Emo Summer and the Unit Breed, and now I'm living in Portland Oregon. I don't have a job. There were a couple of people from Portland, like Mike Taf and Jack, who used to email me from this site, but I don't have their email addresses so if you're reading this, get ahold of me because I live in your town.

CRAIG - He went to his 10 year high school anniversary. His roommate's dog tries to hump me all the time. He still likes chocolate. He's mainly playing with What Happens Next?, but I'm sure he's in 100 other bands that I don't know about right now.

JOE - Went loony. Paints a lot. Can't hear. Has no hair. Got fat. Messed up his leg throwing balls at kids, so now he's a crippled deaf bald lunatic.

ALEX - Supreme yoga master. Besides Brad, Alex is in better shape than all of us.

BONNEVICCI - Comfortably enjoying retirement in the rafters of Joe's garage.

GREG: EX-MASTURBATOR - I just don't know. I haven't talked to him in years.

COL. MATTHEW VON BURINK - Lives in Huntington Beach. HB, dude. He had a really awesome beard but I think he cut it off. What a dick, huh?

PAC-MAN - Joe gave Pac-Man away, to much protest.

MR. COLOR TV - I was driving around by Joe's mom's house and I saw the NEW Mr. Color TV van, which is actually a pickup truck, parked at someone's house.

COW DESTROYER - Joe sold it for $300 but forgot to fill out the change of ownership forms. It was abandoned in San Jose 6 months later and he probably still owes the city money for that.

BROWN THUNDER - Brown Thunder is running good. We put 20,000 miles on it this summer. Only ran into one ditch.

YM WEB CAM - Exciting stuff happening here recently! Keep watching, you never know if you're gonna see me in my underpants!

GUESTBOOK - Guestbook works again. I might replace it soon with one that uses a database instead of a cheesy text file. But I'm very busy being unemployed, so it will have to wait in line.

THE GOLFING RECORD - YES, another Your Mother record came out. Its probably sold out by now though, because it came out a while ago.

FURBURGER - Rumor has it a member of Furburger is planning to take Furburger into his own hands and recreate what once was great. Rumor? Or Fact? Only time will tell.

ONE BIG DISSAPOINTMENT - No new news here, the final YM CD is still in the same stage it was 2 years ago - uncompiled, unmixed, unmastered. Gotta love it.

12/19/01
Holy crap I fixed the guestbook!

09/09/01
Craig says - i went to my 10 year high school reunion last night after much deliberation. i was afraid of having to meet up with a bunch of people desparately trying to validate their role in the world through embellishments and over-inflated egos, but earlier in the day i got a message from someone i really wanted to see who was in town for the event so i waited till 11pm before showing up in hopes that the awkwardness and over-politeness gave way to drunk rabble-rousing, street-pissing and bad kareoke. it proved to be a good decision on my part. the first thing i happened upon were some old friends starting rumors about people who didn't show up, as a sort of punishment for ditching out. so merely by showing up i nearily escaped a new reputation as a south-of-market handjob slinger, plus, on the Did You Know? factboard, the reunion committee went to this very website looking for dirt, somehow missing entirely the myriad of naked pics of us covorting around the world in various states of undress, but finding the quote "craig recently moved off his dad's couch." so had i not shown up all that would have been known about me to the general AVHS class of 91 public was that i was a male prostitute who never left his parents' house. but since i was there to clear a few things up - they now know i am living large thanks to my successful series of workout videos and my short stint as translator for the Japanese game show Iron Chef (until the producers realized i didn't speak Japanese and was making up the translations as i went along). all in all, i am glad i went - thankful, really, to avert the misunderstandings - and hats off to those who made it happen. and if anybody i went to high school with who didn't show up last night wants to know what their unsolicited career is now Send me an email.

07/29/01
I'm in denver. Thought you'd want to know.

Alan

07/28/01
We have added the Mucus Set (from One Big Inside Joke) to the mp3 section of the site, for those of you who want it.

07/21/01
haha dumb ass. Speed-Core Summer for life.

07/20/01
SPEED CORE SUMMER!!!

07/12/01
Damn, speaking of my thumb up my ass, Bradley, who still lives at home with his parents, in Pleasanton, I might add, won't be coming to Emo Summer in Santa Ana Friday night because he claims to have responsibilities like "work" and "school". Whatever the hell those are.

Anyway, I'm just letting you all know that Emo Summer, the Shitty Wikkets and the Four Letter Words are touring the US this summer. Starting tomorrow. To see the whole tour schedule go here, and please come to the shows and say hi. Or throw tomatoes.

tour dates!

07/07/01
But that might not be a good idea, because I only have a half-a-brain myself. Therefore, if I change the password, I wouldn't know how to make NEWS posts any longer.

I also would have to take my thumb out of my bottom long enough to change the password.

--Alan

07/07/01
Damn, I really need to change the password on this "news" tool thing. Its like ANYBODY with half a brain could post something here.

07/05/01


My name is Alan. This is my picture. Write me: email

06/23/01
I gotta stop smoking crack.

Here's the email address, for real:

two_oh_eight@hotmail.com

06/23/01
Rumor has it the Your Mother golfing record is done. For real. Only a few years late, which is pretty close to on schedule for us.

There are 208 of them available, and they are a meager $3 postpaid in the US! But, none of us are going to be around to mail them to you, so you should buy them directly from the label instead.

Email them at two_oh_eight@hotmail.com







if (($news == 1) OR ($news ==2) OR ($news ==3))//add more as neccesary { print "Current News "; } if (file_exists("messages1.txt")): print "Old News "; endif; if (file_exists("messages2.txt")): print "Older News "; endif; if (file_exists("messages3.txt")): print "Hella Older News "; endif; if (file_exists("messages4.txt")): print "Dinosaur News "; endif; ?>