Jan 26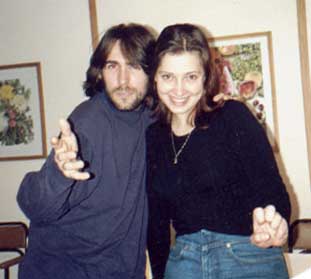 I put way too much brown sugar in my oatmeal this morning. Now Iíve got too much energy and not enough to do. Because the waters are so rough, the only wildlife we can see are the Wandering Albatross riding our wake. Bob pointed out that though they are in effect stealing our wind, they would save even more energy if they just hopped onboard. Theyíve been trailing us since we left land and like a shark never sleeps, these birds, it seems, never stop flying. Iíve noticed them flap their wings maybe once every couple minutes. Instead they just cruise inches above the waterís surface towards the back of the ship, unless a white cap pops off a wave and brings one down because it was flying too close to the water.
Natasha was absent from breakfast, lunch and snacktime due to a sickness acquired from visiting all the sick people yesterday. I scribed one last poem for her.
Deep in my cabin as we bob through The Drake
Alone with my thoughts and my time
I see your box of stolen hearts
And on top of them now sits mine.
I felt it summed up my series of regards towards her. And it wasnít alluding to anything that hadnít already been said. In a nutshell, it says "Iím thinking about you and you know it." I hope thatís what it says, but who knows, she could interpret it as saying, "I am alone in my cabin obsessing about you, you thief."
Bob has been complaining of boredom. To me, any time spent away from work can not, by nature, be boring. Work is boring. I have yet to find a job that does not lose itís charm in a matter of hours. But I have to admit, we are running out of things to do and people to bug on this ship.
I saw the Lady Who Died On This Ship Last Year in the library. She had a collection of at least 20 water paintings spread out across the sofas. They were remarkable. She had captured the sights of our landings, as well as South American landscapes and at-sea images and other scenes I could not place. I was told she is of some relation to the owner of the ship and spends her time riding it for free, wherever it goes. She has a cabin somewhere below ours and stays in there painting all day, every day. My question is How does she know what to paint if all she sees is her cabin? Honestly, we didnít see this woman the whole trip, yet she had such vivid paintings that she must get out sometimeÖ
Before dinner we caught sight of Cape Horn. As we floated over the skeletons of ships past, the bones of their sailors, and the booty they were hauling, I admitted to myself that it was nice to see land again. Shane said of the famous nautical landmark, "We are fortunate to have rounded it without mishap." Bob, Jaime, and I pulled our pants down for some photos to be posted on GayPornAtCapeHorn.com. It was less than 40 degrees Fahrenheit outside, but in comparison to where we came from it felt downright warm.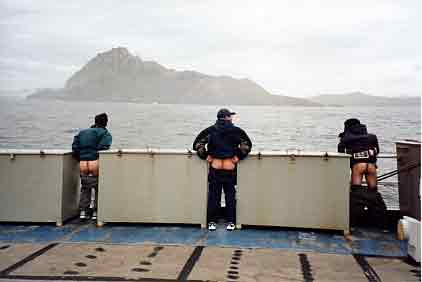 The captain invited us to dinner tonight, which was appropriate seeing as how tonightís dinner was called The Captainís Dinner. Everyone dawned their nicest clothes (which outside of mine were pretty nice) and crowded into the dining room for our last dinner. Seated at the Captainís table were Mr. Masu (and his martini), the unseen painting lady, and some of the other steerman. I went into the pilotís deck a few times on this trip and I only remembered seeing four guys in there. At the dinner table were those same four guys, so I wondered who exactly was left steering the ship.
Tomorrow is Steveís birthday so after a fabulous dinner a cake was delivered to our table. It was some other peopleís birthday too, but as soon as I saw the cake I thought one thing: cake. I pounded down enough to warrant the undoing of my top pant button.
Shane made some closing remarks about our expedition, ending his speech with the Green Day song "The Time Of Your Life." More than ten years ago I saw Green Day play to as many people as could fit in my cabin. I was in New Zealand in 1995 when I first heard their name on commercial radio. That they made it that far was astounding to me. They were a great band, but to become international news was nothing short of odd to me. A year later I heard one of their songs in an Uruguayan bus stop. And now I was hearing them played over a ghetto blaster on a Russian Icebreaker returning from Antarctica. Things sure do evolve. I kept thinking how far they had made it and I got a trifle jealous. But then it occurred to me that I had to make it to New Zealand and Uruguay and Antarctica to hear them being played there, so I wasnít too far behind. All the times Iím made to feel like Iím just a slacker bum get to me pretty hard sometimes, but once I remind myself that Iím just doing things differently, and not worse or better than anyone else, I start to feel pretty darn okay. This was one of those times. Cheers to Antarctica, Green Day, and my obnoxious habit of doing what everybody tells me not to.
After dinner we were given our bills. The ship runs on a "chit" system where you pay for all the debts youíve incurred at the end. I only racked up an $18 bill. Jaime, however, was closer to $300. Gratuities were up to our discretion, but $10/day was suggested at the bottom of our bill.
Before I even boarded the ship I heard stories about gratuities trickling down disproportionately. A guy I talked to in Ushuaia whoíd just gotten back from Antarctica said the staff on his ship never even saw tips. It all got eaten up before it reached the actual people the passengers were tipping. In addition, I just found out there are a total of 72 Russians on this ship. I counted the four who navigated the ship, the five who worked the dining room and the three I saw hanging around the kitchen while talking to Natasha. But thatís only 12. The other 60, Iím told, live subterraneanly. I thought I kept seeing the same two guys fixing things around the ship, because they were always wearing the same thing, but I guess thatís their standard issue clothing for the ship.
I put extra money on my bill payment for the people I never saw, though less than the recommended amount. I was warned that monies personally delivered should be dealt out discretely, lest someone get in trouble or have to claim it to someone. Jaime and I wandered around until we found our head maid. She spoke no English so we had to lure her into our room through pure body language. We were hoping she would follow us and not run off thinking we were going to lock her in our room and do filthy things like make her pick up our socks. She followed hesitantly but once we pulled out cold, hard U.S. currency she understood. No person should have to endure our room without cash compensation.
Then the Naked Shackeltons met up in the dining room for a group-tipping/picture-taking. We were able to gather all four dining room regulars, Natasha included (her first sighting all day sigh). As the cameras clicked away we each slipped donations into their hands. It felt completely dirty, but the total appreciation on their faces made it worth the risk. I slyly placed in Natashaís hand my pressure-point bracelet case (money and my address included) with another Reeseís taped to the outside. She stuffed it in her pocket making sure the chocolate was face-out. Unfortunately, we were only able to talk alone for a short time because she was sick, and because tonight and tomorrow are their busiest days.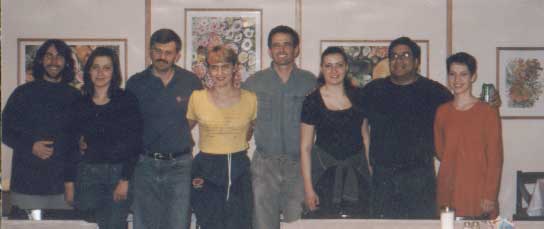 Lastly we were off to the bar where everybody was buying drinks with cash and having Natasha the Bartender keep the change. One man bought a $3 beer with a twenty dollar bill and told her to keep the change, five times. For the last night on the ship things were pretty tame. We were hoping for some debauchery of the lowest kind, but alas, most everyone retired early. I was tired too Ė eating so much food does that to me Ė but the cake was keeping me going.
It is international law that a person representing the country of arrival must dock an arriving ship. To do this a small boat is brought out to the arriving ship a few hours before arrival. While both vessels are moving at full speed, the ship drops a Jacobís ladder over the side and onto the boat. The local captain then ascends the ladder and hops on board. At midnight our "local captain" boarded our ship.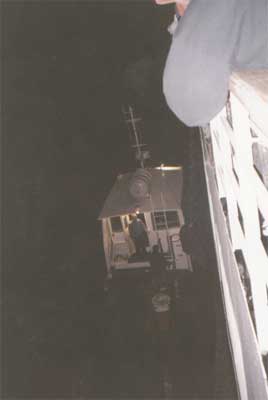 I went to bed thinking two things Ė 1) How often do ships have to stall a docking while they wait for a new local captain because the first one lost purchase and drown, and 2) I should not have had all that cake.